Graduation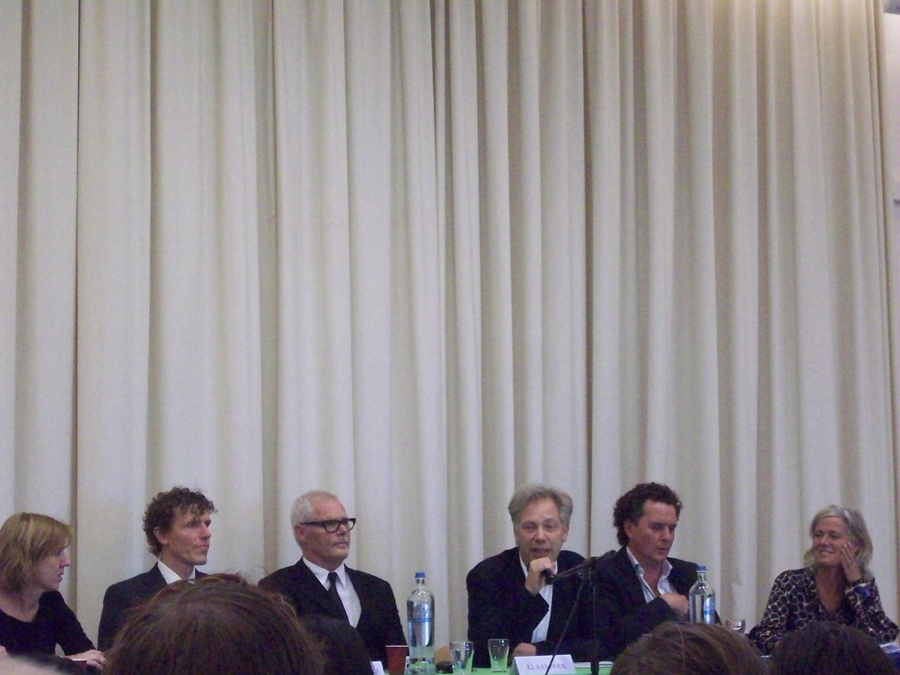 Graduation ceremony yesterday – and a surprise: I graduated cum laude (with distinction). Now that is really cool!
Pic shows the dean of MaHKU and the heads of the 5 departments at the graduation ceremony. Klaas Hoek, who heads Fine Art (the one with the glasses)  had a funny little speach prepared for all us Fine Art students – everyone passed, and he told us this was in part due to the support we gave each other this year. Which was nice to hear.
Will spend the next couple of days creating something like order in my workspace – lots of stuff that has been begging me to be thrown away for a long time now. Started today by cleaning out my car. It doubled as a little van carrying all my stuff – and that of other students – all around Utrecht. Now that I put the back seats back in, it suddenly looks like a family sedan again.
Am going to talk with a company today that wants to hire me as a project manager for nov – feb. Great timing: it gives me two months to make proposals for two art projects I'm thinking about, then I will put my other skills to good use while I try to get backing for the proposals. The things I have in mind I cannot do by myself – I'll have to organise funding and cooperation and such. Also I'm thinking about doing some more street games. And I'd like to visit a lot of exhibitions, And …..
I plan to continue writing this blog. It has served me well in the past year, and I have grown attached to writing a little every day. But right now I am going to luxuriate in the feeling of having nothing much to do and a lot of time to do it in.