Raedecker at GEM den Haag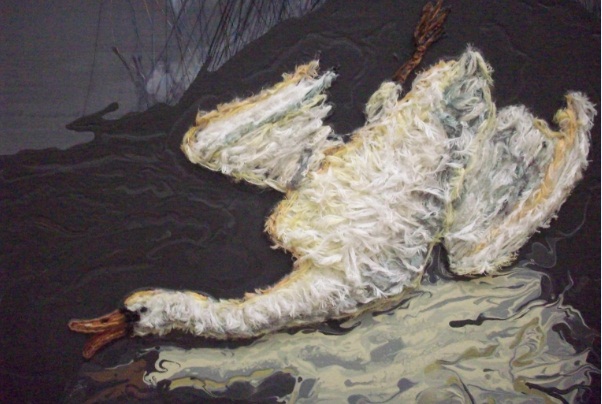 Went to the Hague to the Gemeentemuseum to see work made by Michael Raedecker, a Dutch artist who lives and works in Londen. He trained as a fashion designer at the famous Rietveld Academie in Amsterdam (1985 – 1990). Don't know when he switched to painting, but when he did he took the daring step of adding embroidery to his paintings – and I wanted to see this for myself.
The Gemeentemuseum did an exhibition on Raedecker in 2009 (which I missed) and has two paintings of his in their permanent collection: 'the 'reflex'and 'on'. Swan shown here is a detail of 'the reflex'. My pics of the work as a whole didn't work out that well, but others did a better job, check here . Same for 'on', check here. Later: good set of Raedecker pics on flickr here.
I was impressed by his work – he is really subtile in how he uses his thread, and it really adds something. The swan is embroidered, its reflection painted. The difference is not very apparent from a distance. Coming closer the softness of the feathers starts to show – the need to touch the swan becoming  almost overwhelming.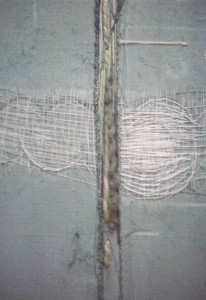 No feathers in 'on' but again a very subtile, even fragile use of embroidery, heightening the shadowy atmosphere of the work. He's good!
Saw another exhibition the same day: European Art Quilts in Woerden. Contrast could hardly have been more pronounced. Woerden did the quilts no justice, sticking them on the walls in no particular order in between the very silly collection of roman remains (the town boasts of an old castellum), heavvy old furniture and pot sherds from almost every time and age. Was disappointed also in the quilts themselves – made of fabric, they don't speak about fabric in the way Raedecker's work speaks about both paint and thread and the differences between these. Smallish sizes of the quilts reminded me about Jane Austen's words about her own work:
"The little bit (two inches wide) of ivory on which I work with so fine a brush as produces little effect after much labour."
Jane Austen wielded her pen with wit and elegance, and choosing her ivory two inches wide worked for her. Not so the quilts – they faded.
Later: just found an antidote to the quilts – Cosima von Arnim. Stitches – but different.  Will go to Witte de With in Rotterdam soon, the pics of this exhibition I found on Flickr are exiting!