Turned to advantage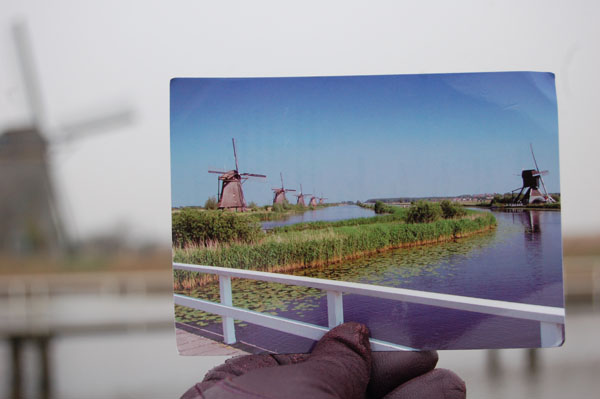 Went to Kinderdijk today to meet with some classmates. No luck – meeting had been cancelled. Turned this to good advantage by visiting one of the most stunning places in all of Holland: the area behind Kinderdijk village – a herd of windmills standing sentry over a low-lying polder, pumping up water to keep dry feet.
As the day was bleak and cold, no tourists were there and I had the polder all to myself, apart from the occasional jogger or cyclist. One of the cyclists handed me a postcard – 'for free', he said – giving me a picture-perfect view of Kinderdijk. It wasn't totally free, though – it had a bible text in several languages on the back, exhorting me to believe and be saved. Which confirmed that Kinderdijk may be on the Unesco World Heritage List but is also firmly a part of the Dutch Bible Belt. Which made me wonder about the possibilities for preserving a certain state of mind in the way we preserve certain landscapes – for surely bible belts will become a thing of the past?
Also: going down from  river level  into the polder landscape forces the reality of living below sea level back into one's consciousness – this isn't something I think about a lot, but now I did. Pensive mood today ….