Gnome Garden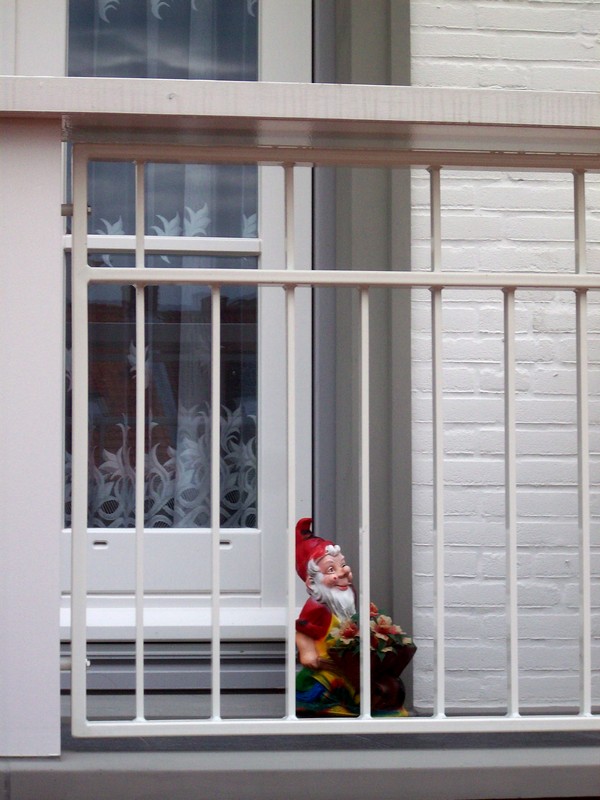 Came across this little gentleman when walking through a brand-new part of  town today – the beginning of a garden in a desert of brick and stone. This section of my home town is so new that even weeds –  fast workers – have not had their chance yet. Picture reminded me of a photo book that I absolutely love: Seeing Gardens by Sam Abell.
Mr Abell sees gardens where no one else does. His photos pose the question of what, in its essence, a garden is. A quote: "some of the gardens that mean the most are impromptu arrangements, like this still life of pears on a windowsill in Moscow. This garden came into being casually, existed for a day or two, and vanished – in this case it was eaten. But while it lasted it was consoling. After a month in Russia I was feeling far from home. My work had me on the street for dayse at a time. Finally my interpreters and I called a day off. I spent it in my room. I photographed the pears throughout the day, beginning in the drizzly dawn. Late in the afternoon, when the sun came out, I waited for it to simultaneously light the pears, the Kremlin, and the distant cupola of St. Basil's Cathedral. As that happened, a breeze lifted the curtain into the room and held it there."
NB: check on my very own sticky gnome again. Also try and find out why Google Images likes the image of it so much.