Archive Access
Added yet another way to access my stuff: an archive page. Finallyfound an archive-with-thumbnails plugin! Had to make the sidebar disappear and tweak the archive design to get Snazzy Archives to fit twelve months per year on one of my pages. Sidebar disappeared by changing archives.php to become snazzy archives.php. Twelve months now fit in one row by changing picture sizes in snazzy-archives.css. Yes, I am getting more adventurous every day!  The result is a new way of looking through my blog's content – as if looking at it  through a visual raster, displaying tantalizing glimpses. Nice!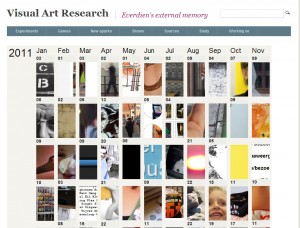 Having the bit between the teeth, I also added a showcase page, using Featured Content Slider. This I code-tweaked as well to keep the thumbnail and the title but make the blog's text disappear from the slider.  Now I can use the slider option to show images I constructed;  showcase my own work. Nice!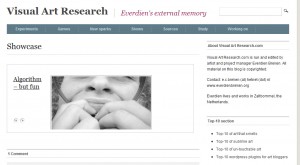 The goodies just came on r0lling in: accordion image is a great way to highlight a category – very visual. It even has a little animation!  which I did not want before as being too flashy. Accordion can be configured to be  small and cute and un-attention-grabbing.  Sometime soon I will have to update my top-10-plugins-for-art-bloggers to accomodate these 3  newcomers!