Chuck Close – Prints – Rotterdam March 2012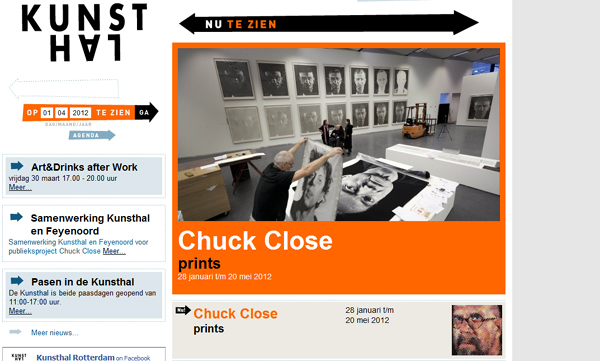 A couple of years ago, one of my teachers at art school had us watch a video of american painter Chuck Close. We got to watch the artist working on one of his huge portraits from a wheelchair – which certainly made an impression! So, looking for something interesting to do with a friend of mine who lives in Delft, I hit on Close's  Prints exhibition  at  Kunsthal in Rotterdam.  And it was fabulous!  The exhibition highlights Close's way of working and researching, and shows all the intermediate stages before the finished print. Funny thing is – I often found the 'almost finished' stages more interesting than the finished product.
I love the man for his experimental attitude to printmaking. He does every technique we know of and some  we'd never think up ourselves: from mezzotint and spitbite etching to thumbprints and handmade pulp paper pixels. Some near-disasters are highlighted that have been turned to advantage – would have been interesting to see a couple of real failures, too
Close  portrays faces he knows intimately: family, friends. Not so easy for him to get to know a  face – he suffers from face blindness, meaning that in his brain the face recognition function is absent – must be strange to have to memorise faces. The  pixel-by-pixel portraits at Kunsthal forced me to alternate  between using my eyes like laserbeams and like a camera – going from bit-by-bit to overview mode.  Whic was kind of unsettling, really.