Organic
Took  Evi Renieri and her family to the atelier of Jan van der Meer yesterday. Jan is a gifted portrait painter based in Zaltbommel, who had the good luck to be offered a big atelier space that fronts the river Waal. It turned out to be a lovely big space where his paintings were shown to good advantage. We should all be so lucky!
The walk from my house to his atelier was made even prettier than usual by the cow parsley along the roads. I had to look the english name up –  must say that its Dutch name sounds much nicer: "Fluitekruid". It's like the roads have gotten lacy edges – lots and lots of the stuff all over the Bommelerwaard, the polder in which I live. Took a few pictures using my phone – have recently figured out how to get them from phone to computer using bluetooth. Another skill mastered!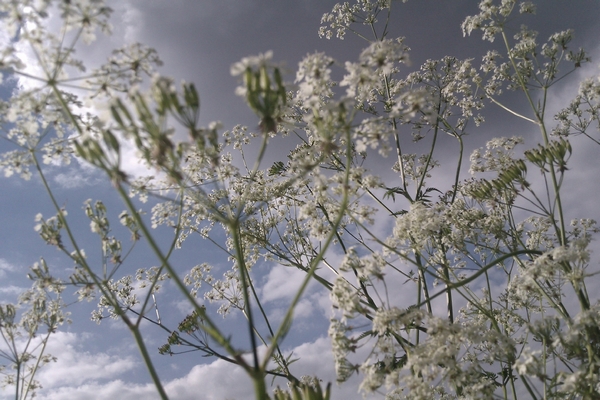 I was hoping to see the effects of more space on Jan's work. And there was! He's using bigger sized canvases, for one thing. For another, he's gone 3-dimensional, doing wood sculptures outside of his atelier. One was huge, a tree upside down so it became a cathedral-like structure. I lacked the courage to go and wind my way through its branches – very inviting, though.  Am considering to use this shape for a weaving project – nice and organic. How to fasten the yarn to the floor, though?