What Comes Up Must Go Down – Again: London july 2012
I got to see the Damien Hirst exhibition that's on at Tate Modern. It is the first major survey of Hirst's work to be held in London, tracing his career from the beginning  in 1988 and showing works that have become icons of our time. It has the famous diamond-studded skull – it was in a little black booth all by itself in the Turbine Hall.
The exhibition was a few floors above. The shark was there, the spot paintings were there, also butterflies, medicine cabinets and spin paintings.  I tried to form an opinion about Hirst's work, but found myself unable to. Maybe it's too close, maybe too distant – don't know yet.  What I do know is that I love Hirst's  titles – how about the physical impossibility of death in the mind of someone living'  for a dead shark in formaldehyde. Makes my mind go around and around.
What I did not know is Hirst did a piece with a hair dryer and a ball: What Comes  Up Must Go Down.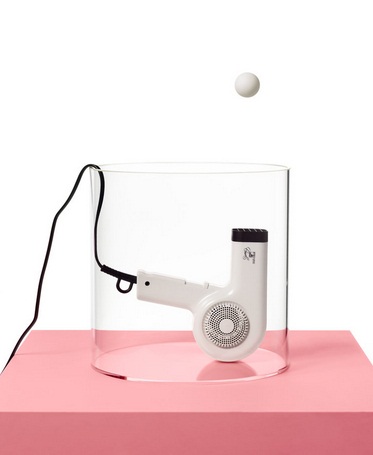 That looked familiar, check here. I envy Hirst for his self-confidence – proclaiming to the world that Yes This Is An Important Work Of Art.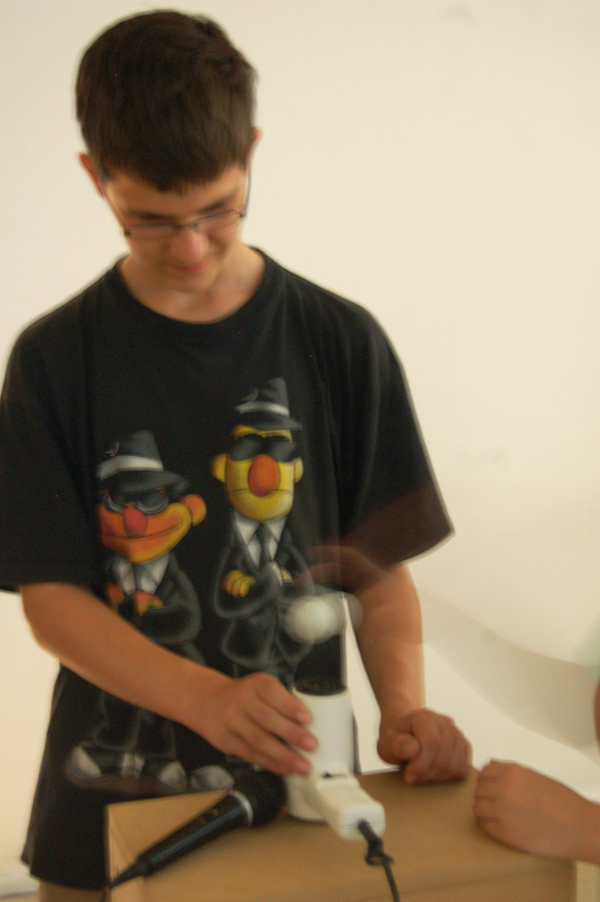 Seeing Hirst's work solved one of my problems. Never did decide on a colour for the column of my work, but I can now officially cite Hirst by making the column pink. Then fix the hairdrier and the microphone and call the whole thing  ……  what?
It would fit in with my circle works, for the microphone drives the hairdryer and the hairdryer drives the microphone.  Once this circle closes, there is no escape …  for the ball. This is also a Milan Kundera quote.