Won't be easy, will be done.
Had an inspired and productive day today – sunny outside, sunny inside. First I sorted through the documentation of my Amsterdam performance yesterday: pics of people that I sold (non)republican buttons to.
Then I started on the design for an exhibition I am presently working on, in cooperation with Hester Stafleu. Who is an almost-neighbour and a great one for writing texts. We are working together in a research project that focuses on the position of religion in our area – we have orthodox protestants and orthodox muslims living side by side,  and a variety of religions, beliefs and inspirations inbetween. Our religious landscape  has never been so varied, nor so invisible:  Dutch policy makers and cultural vanguard-ists have a blind spot where religion is concerned. Which is an interesting phenomenon all by itself.
We're interviewing people as a way to charter religion as determinant both in people's private lives and in the way people get together and live together. Hester doing the  interviews, me the photography, the info-graphics and the design.  We' have a successful pilot study under our belt, and are at the fundraising stage now. Which won't be easy, but will be done.
Below the design for the exhibition, working title  "Heilige Huisjes'. Literal  translation:   'Holy House'  [i.e.  houses of religion]. Connotation : 'sensitive subject, approach with care'.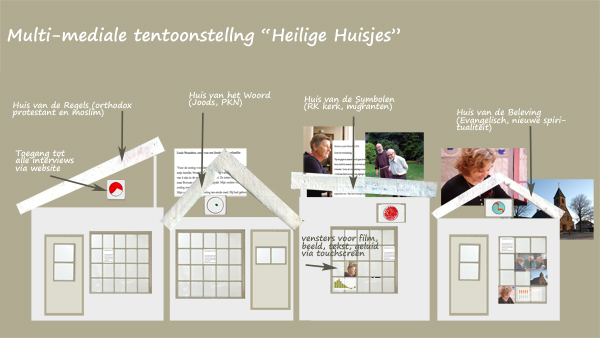 Sources:

Tiny little row of houses, a souvenir my mother brought home from Russia or Chech Republic. I saw it at her house last sunday, and had the right 'gotcha' feeling.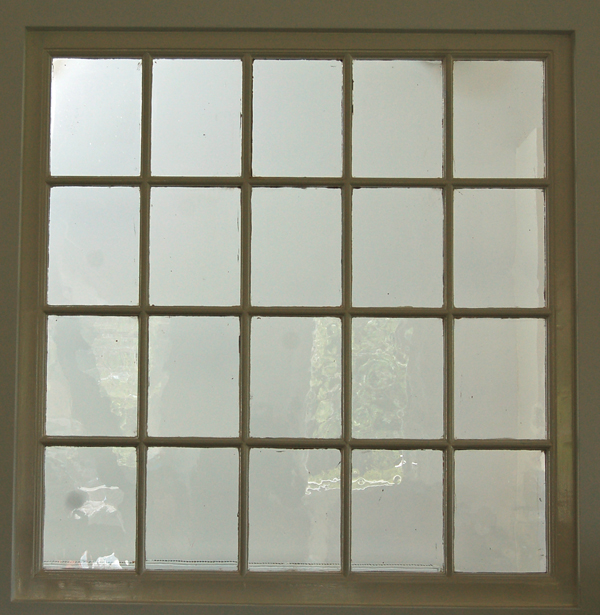 The window in my studio – each windowpane to be a screen that will display film, photo's, text etc when activated by touch. So that visitors can construct their own path through the material, and engage at a level that suits them. Which in its turn was inspired by this work from the Shanghai Biennale I visited last december [If I remember correctly, it is by Hu Jieming]: