Documentation done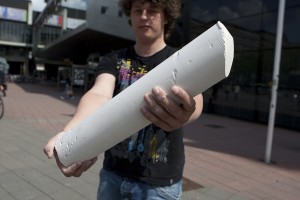 It's unbelievable – texts and pics of all the street actions are done.
They presently reside on a USB stick that I will carry with great care to the  graphics editor that is about to do the layout for 'Neem de ruimte – Spelen op straat'. I even made backups!
Pic is of eldest holding a grownup-size crayon. I was glad to have his muscle power last monday – these chalks are really really heavy.
The project was – and is – a lot of fun to do. I planned more street actions, check www.spelenopstraat-site.nl. A good selection of the wonderful pics Ilvy, Jaap and Arie took are there, too.
Note: translate text & put on this blog.
Later: I did manage to transfer text and pics to the editor's mac.  Now I need to tighten up a few loose ends, and that's that. The editor of Straatnieuws will give a 'go' or 'nogo' next week friday. Fingers crossed!