Chatting with strangers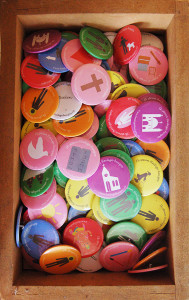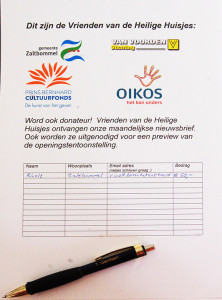 The first weekend of Kunst Kiezel Klei  has passed. I have mixed feelings really – it was strange having strangers walk around studio and garden Did not really know how to behave – be a host (convivial) or be a gallery owner (aloof). It's easier for me to talk to people that I know. I give them tea and cake and behave as though it is something like a birthday party.  Fortunately I have the opportunity to hone my chat-with-strangers skills again  next weekend.
Talked the concept of Heilige Huisjes through with a number of people, which was very useful. And also we've gotten  more subscriptions, we handed out buttons and tried out the Geloof in Jou game a number of times. To good effect: the young intern is processing the feedback as we speak.