Pre-programmed for sewing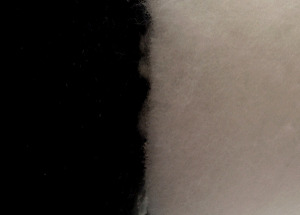 Am done with the iron wire -the next challenge is to fill out the tree trunk and branches with fiberfill and clothe them with black tricot . I was going to use old Tshirts for trico t- still have plenty of black – but tried it out and concluded it looks a bit shabby. So I hit the Internet and ordered a good quality black tricot – no sense in being stingy here. Have made progress in the be-critical-during-the-process department, something drummed into me at art school. Things are to be just so or not at all ….
While bending wire makes me uptight, working with needle and thread calms me.  I'm probably  genetically pre-programmed for sewing ;)  Lots of great seamstresses in my ancestry. Simone de Beauvoir will rotate in her grave, but it cannot be that it was my upbringing that pointed me towards needle and thread. For the sewing skills skipped a generation, my mum being neither interested in fashions and fabrics nor a dab hand with the needle. My dad actually did embroidery – very unusual for his generation- and his mother was a professional seamstress. I learned to sew with her sewing machine, an old singer that was hand operated.