Not cutting
Spent some money on a luxury this morning: peonies. A luxury, for peonies are in bloom in the cutting garden that I started last year . I could have cut them there …. but one fatal flaw of the cutting garden has been revealed today: I much prefer not cutting.
Fortunately, peonies are to be had just about everywhere this time of year  – supermarket, florist, street market, gas station –  you name it, they've got it. Having a good selection of cut flowers for sale at just about every street corner all year around is an under-appreciated bonus of living in the Netherlands. As are the lovely little gardens that people make by lifting a few paving stones and planting climbers and creepers and roses and hollyhocks and lots of other interesting stuff to grace the facades of their houses.  I've not seen such eagerness for vertical gardening in any country but the Netherlands. How come?
Getting back to my peonies: I transplanted them last fall, and should not have had any flowers this year according to the books. But I've always been very lucky with peonies, even had them flowering  in very shady spots. Which is atypical:  again according to the books, they need plenty of sunshine to flourish. I have four cultivars:  two that were in the garden when we moved in and wo that I added a few years ago, being [Candy stripe] and [Moonrise] – trite names for lovely flowers. Peonies are very high on my list of favorite flowers:  I love their lacquered shoots in spring, their shapely buds, their scent.  I've even forgiven them for the fact that they need supports, where I have done away with every other plant that needs supports and/or is attractive to slugs.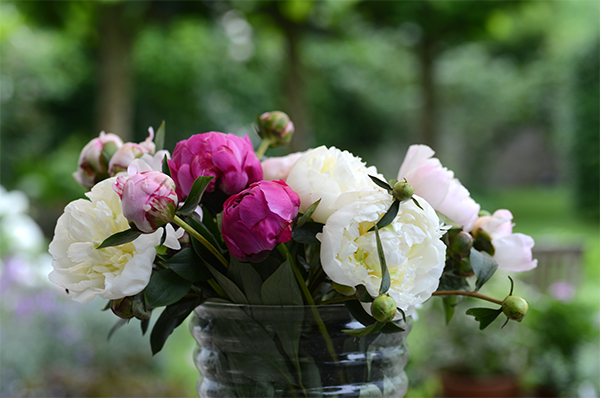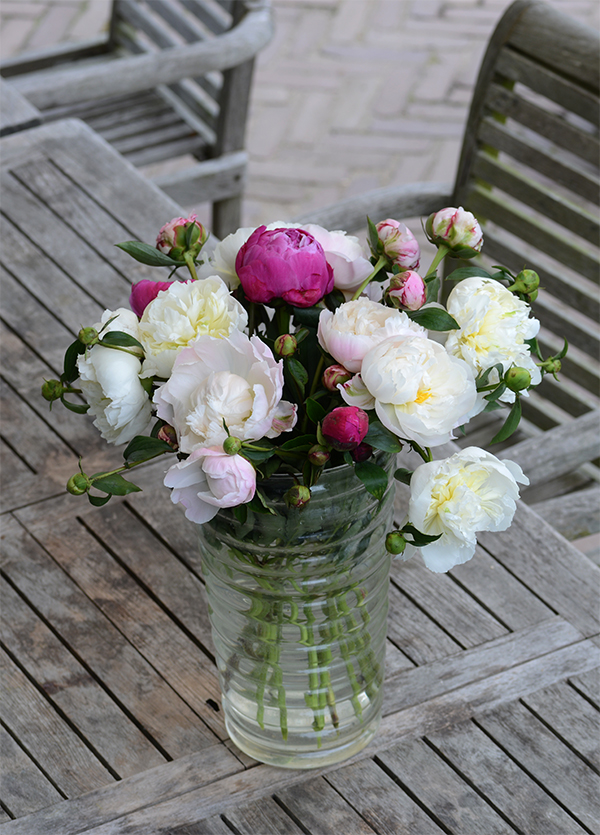 Writing about my favourites made me want to do another list: favourite flower per month.
– January: viburnum bodnantanse 'dawn'
– February: snowdrops
– March: hellebores
– April: tulips
– May: wisteria
– June: roses
– July: hydrangea
– August: acanthus
– September: crocosmia
– October: anemone 'honorine jobert'
– November: calendula
– December: jasminum nudiflorum