Winter garden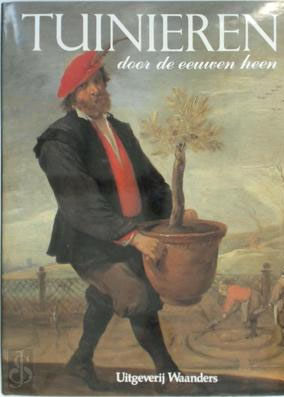 Reading a somewhat curious book – the Dutch translation of 'An Illustrated History of Gardening' by Anthony Huxley. He turns out to be an english garden boffin I'd never heard of, writing in a somewhat haphazard style about the origin of wheelbarrows, weeding tools and watering cans. Very beautifully illustriated, it is a book to consume in small doses.
The book is part of my 'winter garden' – a bench in my living room that is piled with books about gardens and gardening, to be read on the winter days that indoor gardening of this type is more attractive than the out-of-doors thing.
Winter gardening isn't unattractive in and by itself – I have viburnum tinus and viburnum bodnantanse in bloom as we speak. Hellebores are showing big fat buds: we may have some of them in bloom at Christmas. Which is something that hasn't happened before, even though the hellebore's Dutch name is 'Christmas Rose'. Snowdrops, the tips of lots of lovely snowdrops emerging, promising a tapestry in january.
So it isn't winter that keeps me from gardening but weather conditions – gray, overecast, drizzly days keep me indoors. Not so today, for it was a glorious cold, sunny day and we went for a glorious, cold, sunny walk. Picked flowers, even: common yarrow (achillea millefolia) and a blackberry (rubus) that decided to flower out of season. Paired with black privet berries (ligustrum ovalifolium) and coralberry (Symphoricarpos chenaultii) it makes a nice little bouquet at the kitchen window. This windowsill is where I keep a collection of glass vases in attractive colours and complementing shapes. Any garden calamities – flowers cut by accident – and late roses and suchlike go there, also wildflowers and cuttings. Nice!