Arnhem mode biennale 2007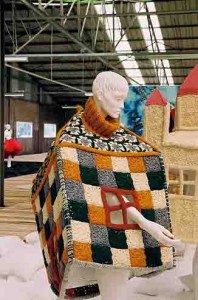 Wanted to post todya about the arnhem mode biennale 2007  that I visited. 
 
I went to the Catwalk installed in an an old industrial building: a former bricks factory on the river Waal. It was a huge space, where a new generation of Dutch fashion talent presented itself  in june 2007.
I want to post about it not because of the one thing I remember so clearly. Not the fashion (some was really fab) but it is something they did to the space. It being so huge, they made a catwalk-walk through  with different areas, and each area had a different ground cover. In the picture I posted you can see wooden planks on the floor, they also had sand, pebbles, marbles, mirrors, washing powder and suchlike. The great thing was that having different materials underfoot made me very aware of my feet and how they touched the floor. Very aware of my sense of touch – but no touching the dresses, of course.  This I think started me thinking about our sense of touch and its – very modest, even discouraged – place in appreciating art. 
The picture is of a house-that-is-a-dress by Yoshikazu Yamagata. Some more names:  Bas Kosters, Cassette Playa, Shoplifter, ThreeAsFour, Lanin, Romain Kremer, Bernhard Willhelm, Cathy Pill, Henrik Vibskov, Gareth Pugh en Matthew Ames.