Beyond the dutch – Centraal Museum okt 2009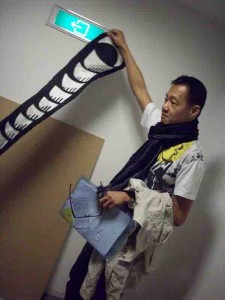 Started the workshop week 'Beyond the Dutch' today. The Centraal Museum Utrecht and the Sandberg Institute present us with workshops by Dutch and Indonesian artists. The exhibition 'Beyond the Dutch' that opens next thursday  will explore the relationships between Indonsesia – former colony – and the Netherlands – former colonists. It will focus on the period around 1900 (colonisation), aroundf 1950 (decolonisation) and 2000 (post-colonisation).
Monday: visited Centraal Museum. For me it was a first time behind the scenes of an exhibition – very interesting.  Mr Enin Supriyanto , co-curator of the exhibition, took us on a tour of the exhibition to be, we saw some stuff already in place and a lot of stuff that the artists were still working on. Particularly noticed some embroidered pieces (see picture, this is Enin holding a piece of embroidery up) because it is so unusual to see someone embroydering murals. Good idea though. Talk by Tiong Ang about his installation, gave me a new insight into how to do research, using something that happened to him when his family re-located to the  Netherlands from Indonesia when he was 5 as a starting point for his research. I noted the way his research sort of meandered around obstacles – a flexible approach that I find very appealing. Also his versatility. He uses film (actors and real life footage), photo's, painting, sculpture in one installation.
Tuesday: workshops with Jasper de Beijer and Mella Jaarsma. Impressive, the way they take hold of their subject and pursue it year after year. Took this to heart: I will take  TIME –  coming into the art world at a relatively late age has made me adopt a  fast pace, a 'no time to be lost' attitude.
 Picture below shows Jasper's 'city of the mind': Untitled from the series The Rivited Kingdom, 2008.  Picture at bottom shows a work of Mella: 'Shelter Me', a portable shelter made indonesian-chinese style. Both artists have links with Indonesia, Jasper because he married an Indonesian girl, Mella because she has lived  in Jogyakarta for many years now. All the artwork I have seen in connection with "Beyond the Dutch' is so well connected to a certain time and place – they would not have been selected for this exhibition if not, still, something to think about.