Experiment no 003/2009: next step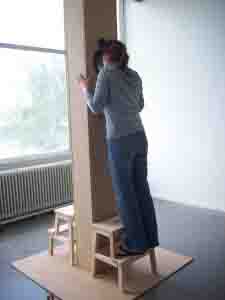 Yesterday I gave the 'wind machine' used in Experiment no 003/2009 a new look. The machine, as you can see in the blog I wrote about it, worked well but also had a few problems. For starters: it  was too large to handle and transport easily. The steps did make people curious enough to step up and start the interaction, but steps meant that I had to build it high so it became cumbersome. I also   made the thing too fixed, too static. The surprise was there (your breath being breathed back at you) but I leaned that surprises of this kind work only once.
So I recalled the exitement from when I started the experiment, the day that I just held the microphone and the blower in my hands, both  connected to a very simple and small wooden box. I  invited people (my family, really) to close their eyes and blow/talk into the microphone. They – especially the little girl – soon took matters in their own hands and had fun with the litle machine for a long time afterwards. Because it was mobile.
So I decided to stop hiding the microphone and the blower and instead use them to generate the curiousity I need, use them as an invitation to come and explore. The big box I deconstructed & had it cut up into smaller pieces. Ricolt then made a smaller box & I put the microphone and the blower on top of it. Now I need a setting, an environment. Will test it at IBB and at Tractie, but what I really need is a waiting room of a doctor/a dentist or some such place, a place where people have time to kill.