Patience rewarded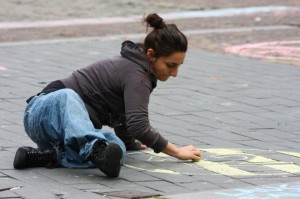 The first pictures from the street action we did yesterday came in. Jaap really worked fast! Beautiful pics, patience rewarded.  Will blog in more detail about the street action later (here).
Today was preparation day for tomorrow's pre-exam. Which is a gateway to the exam entry review in two weeks time.  Which in its turn  is the moment when  teachers at MaHKU tell us if we are ready to rock towards the final exam in august. A lot of  'pre' moments, this is. I now have so much stuff that it is difficult to make a selection. Be honest: how much can a woman discuss in 10 minutes (even at double my usual speed)?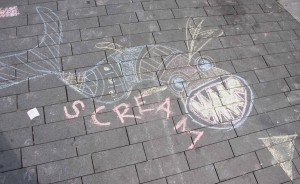 Made some more giant chalk for the street action tomorrow. They are much heavier than I had thought, even after I dried them in the oven for a day.  So asked the eldest for help carrying stuff – he's free tomorrow & will come and carry and so safeguard my back.
Later: the pre-exam went really well. Smart questions, and answers that I hope were smart, too. Strange how memory works at these occasions – I'd be hard put to tell you what it was that I said, exactly. What I do remember is a compliment about the giant chalk from Lisa May Post. She was glad to see that my research concept is well-referenced and clear, but even happier that I still pay attention as to how things look. Seems I've put my new years resolution into practice!
Elias, one of the teachers from the bachelors, was there, as it was also my final exam for the bachelors. So theoretically, I have my first art diploma. As the results of the pre-exam and the exam entry reviews will be discussed with us on June 14th, I have to wait two more weeks to know for sure.