Preparations
Posted by Everdien on 5/15/10 • Categorized as All posts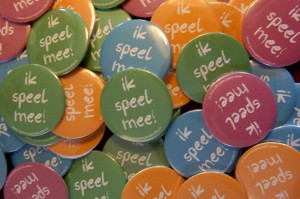 Yesterday saw heavy activity at my place. Support group (being the little girl and a very handy 19-year old)  and me did some serious button making.  Then we had a go at making larger-than-life crayons out of plaster. Two of those are firming up nicely  in the oven as we speak. Then we raided the local and not-so-local toy stores for boxes of crayons, we're going to need lots and lots.
At the end of the day I was pretty exhausted.
For today's action ten people are coming. Five fellow students volunteered to draw the game, which is pretty handsome of them considering we have an important exam next monday. Also a number of friends that will do various other things.  Sure hope this will be good – will keep you posted.
Tagged as: button, crayons, five, game, girl, little girl, plaster, students
Comments are closed.