Straatnieuws in print!
Posted by Everdien on 6/04/10 • Categorized as Weblog writing,Playgrounds,Experiment no 007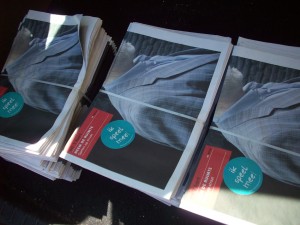 Today the June edition of  'Straatnieuws' was printed, and I went to their offices in Utrecht to get my copies. A really really good day – lots of sunshine, too!
I got 300 copies of the paper, looking good in the boot of my car. The guy on the front page (and yes, he does have a head) is Dutch writer A.L. Snijders, champion of the ultra-short story.  In an amusing interview in the paper he explains about his stories:  "the authenticity of an USS resides not in its length, but in the fact there is always something strange, something peculiar in it. Without me putting this element in consciously. I didn't see this myself, but my wife – the only one to read them all – said: there is usually something inconvienient in those stories."
The article about my 'spelen op straat' project is really cool. To show it here I have to figure out how to embed PDF files in a post. Will do this a.s.a.p.
Later – but not much later:  Have figured out how PDF and WordPress work together, thanks to a helpful fellow blogger.
Now check below, these pages, page 7 – 14 in the paper,  are mine. The Straatnieuws sellers will be wearing my button selling the paper on the street.  The very button that  is on the cover of the paper, saying  'Ik speel mee'  meaning  'I am playing, too'.
Tagged as: blogger, button, car, cover, Dutch, paper, PDF, project, show, story, street, USS, Utrecht
Comments are closed.