Tractieweg expo 26/6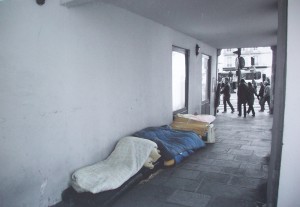 Visited the bachelors expo at Tractieweg last saturday. All my classmates from HKU were there. I was really proud of ' us evening students' , the ones that, like me, combined work with art school. Which was a hard graft. Chris, Remy, Gerlise, Lisa and Martine – I will miss bumping into you guys at irregular moments, bitching about school and discussing our work and exploring the top fundraising ideas for schools.
The expo itself was a bit disappointing. Very inward-looking lot, hardly anyone that broke out of the convention of working in one's atelier. Painters all vaguely figurative, and almost inter-changable in their approach, even in their brush strokes. What happened to diversity up there at the third floor?
I bought one of Chris van Wassenhove's' works, he does interesting things on 'emptyness' and 'silence'. He started on this path when he used his – considerable – painting skills to paint images that were chosen at random from tv, his problem at the time being 'what do I paint'?. This question then led him to randomly arrange images in books by cutting in one page to join its imagery to the images on the next page. I bought one of the works resulting from this process. His essay was constructed along the same lines – texts about silence and emptyness, edited, cut, white-washed until only the words 'empty' and 'silence' remained. Will be interesting to see where this path leads him – it has a lot of potential.
Another interesting artist I signalled is from the 'art and education' department. The work of the art & ed students was badly presented, unfortunately. They haven't much space, and choose to cram what little they have full of works, which doesn't work. Artist I noticed is Sanne van Kampen, who asks questions about 'home' and 'private space'. She does intelligent things with texture without her work having texture; with colour and black and white; also she made room. The photo shown in this blog is a work of hers (reproduced courtesy of the artist).