Balls added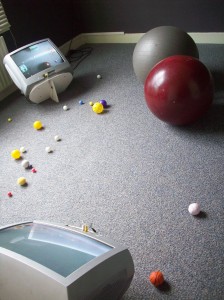 Added some  balls to the newest incarnation of Experiment no 005 today. Effect is good – I like the way the grey background makes the colours come out. Note: add some balls of  inbetween sizes. Dark red ball used to be a circus ball, I borrowed it from a friend of a friend who's been an acrobat and still has the two wooden balls she made for herself then. I love it!
Decided on a way to make the lines I need. I tried chalking them – too unprecise, too messy, even when I used fixative. I tried strips off woolen blankets – too bulky. I tried tape – right size, take-off-able,  but not the right texture nor the right colour. Then I was inspired to call the company that makes the tape & ask for advice. Got a very helpful young man on the phone who told me that they do make tape with a more cloth-like structure, also in the right colours. Gave me the name and phone number of the company that sells this tape. Apparently one can order tape  of any width, it is cut to measure. Never knew this was possible! He even promised me to send me a sample asap, so I can check the stuff out before ordering. I simply have to feel it before I can make up my mind.
Also started to paint the wooden supports that keep the tv's in position, the white is too dominant. Painting them the same shade of grey the TV set is. If there is anything I learned at HKU, it is attention to this kind of detail. Now for some more patience……
The two pics below are taken from outside the room, compare with earlier pics from the same point of view here. I hope that seeing the TV set makes people curious (enough) to enter.