Doing Dissimination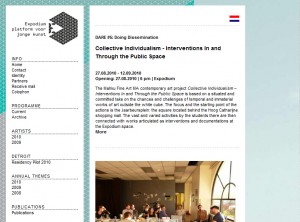 This is the home page of Expodium, it announces our exhibition and gives some background. The whole event is part of DARE #6, the Dutch Artistic Research Event that also hosted a symposium-cum-dinner-party that I blogged about earlier.
I've put the complete text below FYI.
DARE #5: Doing Dissemination

Collective Individualism – Interventions In and Through the Public Space


27.08.2010 - 12.09.2010
Opening: 27.08.2010 | 6 pm | Expodium
The Mahku Fine Art MA contemporary art project Collective Individualism – Interventions In and Through the 
Public Space is based on a situated and committed take on the chances and challenges of temporal and 
immaterial works of art outside the white cube. The focus and the starting point of the actions is the 
Jaarbeursplein: the square located behind the Hoog Catharijne shopping mall. The vast and varied activities
by the students there are then connected with works articulated as interventions and documentations at 
the Expodium space.

The Collective Individualism project is structured as a series of workshops that lead up to the final week 
(23.08 – 27.08) of interventions and happenings. The project is not  presented as a unity of a group exhibition. 
Instead, it is an open-ended self-critical process that enjoys the alterations and flexibilities within the 
common frame. It emphasizes the need and necessity to think creatively of the ways to actualize the 
interventions in the public arena into works of art within a gallery space. It is the road from temporal
acts into the actualizations of post-production. A road filled with detours and elements of surprises.

The project is what it promises: it is a collective action made by 15 participating individuals. We have one
 site, one theme and then 15 carefully examined, analyzed, developed and conducted acts or events at 
the square.

These are acts and events that invite us to think and to see differently. They ask us to stop for a minute: 
what kind of works of art and what type of visual communication is possible and meaningful in a vague 
transit area of this busy square in Utrecht? This leads us to ask: What is a public space? Who is it for? 
And ultimately: How can 

we make use of it in a manner that is more interesting and pleasurable – not for 
a few but for many and not only for an activity identified with a price tag?

This project is a collaboration between the Mahku MA Fine Art program and Expodium. The project is 
organized and curated by Mika Hannula, professor for artistic research, University of Gothenburg.