Grownups around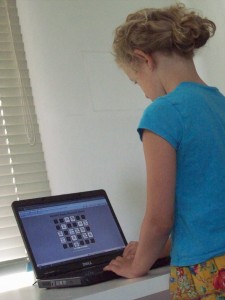 Yesterday was another Open Atelier day. Took the little girl and went early. Had a lot of visitors, FFF mainly and very nice to see them all in this setting. I don't talk about MaHKU a lot and most were very surprised about the international orientation.  Pic is of the little girl playing my essay.
Lots of kids. If I ever use a ball game as a format again I need to think about better security. No tiny balls – a one year old put them in her mouth. No balls that could bust a monitor & cet & cet.
Yesterday I just made sure there was a grownup there all the time – me, for instance. I had a ball – no pun intended. Kids are just so much more fun than most grownups. I've grown over the fear that if a work is attractive to kids it cannot be Art with a capital A.
Shot some film that I'll have a look at today or tomorrow. Tomorrow is also graduation day – looking forward to it and am sad about it at the same time. Time sped by so fast, it seems incredible.
Am curious about the new crop of students. May get to meet them next friday, there is a get-together or something. Will be interesting to see who enrolled and where from.