Checking out Groningen – Groningen maart 2011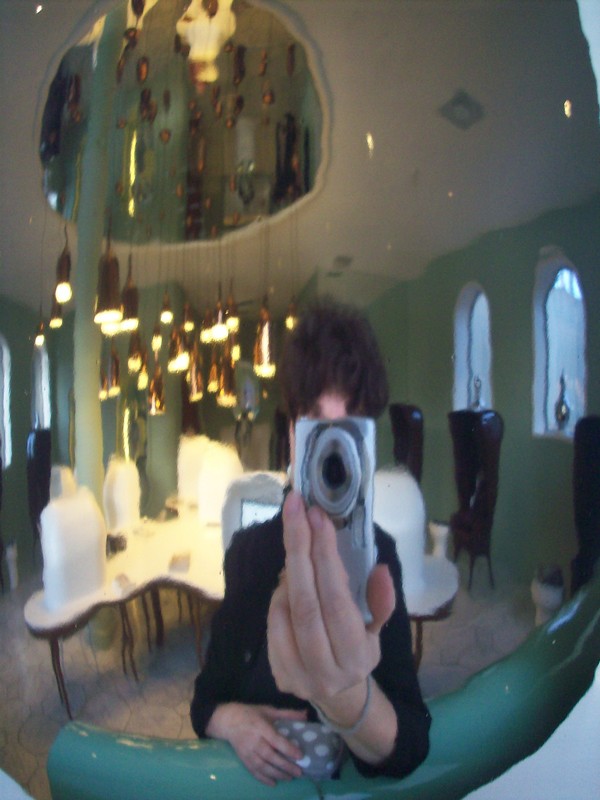 Self portraits – keep doing 'm. This one is taken at  the library of the Groninger Museum.  I visited it yesterday – the big girl will go to university shortly, so we checked out Groningen the city, Rijks  Universiteit Groningen the university and Groninger Museum the main museum .
Will not spend time writing about either Groningen the city or Groningen the university, for the big girl decided these are Too Far Away. The museum I will write about, it  is a gem  by Alessandro Mendini, who is well represented in the museum collection,  too. Some Groninger fascinated with baroque forms and lots of dots must have been at the helm of the museum in the '90's ….
Due to  major renovation  the building shines again, and to honor the occasion a number of highlights from their own collection are on show. Attractive thing about it is that they  present  contemporary design and photography vis-a-vis with seventeenth century portraits and the Hague School, making unusual connections. They had an interesting system installed – a keyring with a little square on it, that could be pressed to a little square sitting on the wall next to a painting to enable visitors to take information home. Didn't try it out but it looked cool. Later: checked its name: GM-collector.
Pics below were taken standing in front of a showcase holding a silver coffee set, part of a number of sets that Mendini had designed by international architects in the '80 – a daring move in those times. The idea of crossovers between art, design, fashion and architecture was pretty new in those days. The other stuff on show was pretty boring (mainly painting) so we gave that a miss.