Collecting Contemporary – thingyness and thin air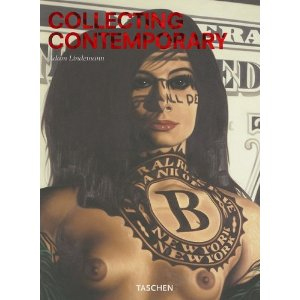 I've become a member of the Amsterdam public library, which is great – their english language section is huge, and so is their art book section. I feel like a kid in a toystore when  I'm there – plus they have this great restaurant overlooking Amsterdam and the river IJ – what more can a girl ask for?
The appealing young lady on the left – a work by Richard Phillips -is my most recent find. She sits at the cover of Collecting Contemporary by Adam Lindemann, Taschen, 2006.
Lindemann deals with collecting contemporary art, which is art from the '80's until the present. It has great interviews with artists, gallerists, museum directors and curators, art consultants, critics, collectors and auction house big wigs.
And guess what the books sub-plot is: art and money. Reading Collecting Contemporary  made me aware of how thin the air used to be at art school – we never discussed the inner workings of the art market, nor did we pay attention to marketability, collectability or the  life cycle of an artist. Never even discussed how a works thingyness can make it more or less suited to get collected, sold and re-sold.
So here's some new vocabulary
Primary market – first sale of a work, usually from a primary dealer i.e. a gallery
Secundary market – a resale of a work of art, through a gallery or auction
Reserve price – the minimum price at auction below which a seller will not sell the piece. Pieces that don't make the reserve are bought in.
Fractional gifts – tax-saving construction to get collectors to donate work to museums. Basically the tax-write-off enables the collector to have the work for free for a couple of years, before it goes to a museum.
Grey market – works not shown by a dealer or sold through an auction house.
Provenance – the ownership history of a work of art.
Resale agreement – agreement between new owner and gallerist stating that the owner will offer the work back to the gallerist before selling elsewhere.
An here are some new insights
Never knew there was so much etiquette involved in buying and selling art. It seems a new collector must work really hard to to get on the good side of a gallerist so as to be sure to be offered work by a popular artists. One can also buy this kind of access by hiring a well-connected art consultant.  A great way of getting into a gallerist's black book is to buy at their gallery, then turn around and sell the work at auction without having offered it back to the gallerist first. Art dealer's ego's are described as 'often bigger than those of their artists' – which says a lot!
Another insight: art criticism is dead. Only one art critic interviewed, the other interviews point indicate that art criticism is dead. Charles Saatchi, again: "The art critics of some of Britains newspapers could as easily have been assigned gardening or travel, and been cheerfully employed for life. "
Not mentioned in the book, but inferred by me: to loom large in the art market, an artwork had better be an object, and a durable, reasonably sized object at that. Maurizio Cattelan's The Ballad of Trotsky (1996) – a suspended, taxidermised horse –   netted this comment from collector Peter M. Brandt: "I don't think about where I'm going to put artworks when I  buy. It's very abstract, where it's put. I would say of all the things in the collection, probably about half is warehoused. I bought Maurizio Cattelan's horse for $800.000,- (in 2002). I couldn't hang it anywhere. I thought it was one of his most important works. I like him as an artist. I have many other things of his. The very fact that is was taxidermied was a problem, in terms of humidity. I really didn't see a place for it, where it would weather well in our spaces. " The horse was sold at Sotheby's for  $ 1,8 million two years later.
Another thing I noticed about the works referred to and depicted in Collecting. They have – for lack of a better word –  instant appeal: they refer to a collective mind saturated with comics, manga, bling-bling and grafitti. Conspicuously present:  Takashi Murakami, Andy Warhol, Jeff Koons, Damien Hirst. Collector Charles Saatchi:  "General art books dated 2105 will be as brutal about editiong the late twentiets century as they are about almost all other centuries. Every artist other than Jackson Pollock, Andy Warhol, Donald Judd and Damien Hirst will be a footnote."
Conspicously absent are all  beau gestures. No Francis Alys, who creates poetic urban legends like  when faith moves mountains (2002). No Rirkrit Tiravanija, who's  artworks involve him preparing and serving traditional Thai food for his audience to convivially consume at gallery openings.