The Dangerous Cutter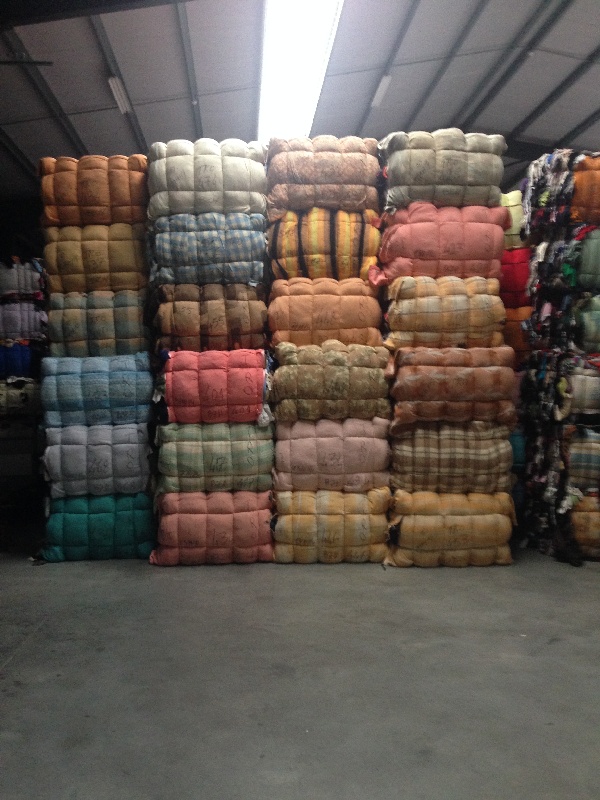 Next Saturday PLAY+ART and me have organised a Galaxy workshop in The Hague. We'll work with young women from Transvaal, a colourful neighbourhood where Turkish and Moroccan communities are strongly represented. Both are cultures where handcrafts have a certain position – I'm curious to see how they will react to larger-scale yarn and really big crochet hooks. Before the Galaxy Stars can shine, though, a lot of work has to be done: cutting, stretching and winding yarn into balls.
As cutting by hand proved to be very time-consuming, this was the first step in the process I mechanised: the Dangerous Cutter came into my life. The fact that I've still got all my fingers is a tribute to my powers of concentration, really.
Until now I did most of the work involved in making yarn myself. But in order to give Galaxy size – which it needs – production has to be scaled up. So I did a try-out workshop last saturday: a number of helping hands came in to assist with the yarn-making. What I learned from the experience is that having a group of volunteers speeds yarn-making up no end!
I had two problems, though. First of all, it is not easy for me to concentrate on the cutting when surrounded by people. Secondly, cutting makes too much noise. We couldn't get a conversation going so the hour we spent was not very gezellig – this untranslatable Dutch word that is a mixture of cosy, fun and intimate. It's eight girls in my studio swapping boy stories and giggling. This did not happen (the stories and the giggling I mean) and that is a bad thing, for in order to get people to engage with Galaxy on a volunteer basis, working on it needs to be gezellig.
So time to adapt the strategy a little: as cutting is Dangerous, and not Gezellig, it will be done by me exclusively, and in the peace and quiet of my studio.
Today I put my theory into practice, using the new Dangerous Cutter that I bought. It is even more Dangerous than the one I already have. It is bigger and stronger and goes through the T-shirts like a hot knife through butter, which is very nice. But it's not designed to be kind to my hands. By power of concentration – again – I managed without bloodshed. I now have a bag full of T-shirts that are cut halfway through, ready for the cutting-by-hand and stretching that will turn them into yarn.
I'm gonna go through these preparations step by step, just in case I get total amnesia one of these days.
Here goes:
1. drive to Sort BV in Tilburg and select and bag T-shirts. Take T-shirts home.
2. make room on table for cutting, tape the cutter to table.
3. pile T-shirts on table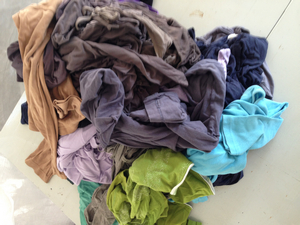 4. fold T-shirts ready for cutting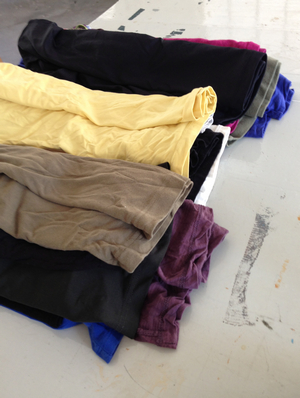 5. Cut T-shirts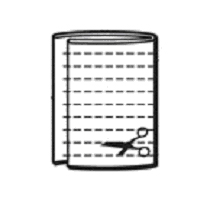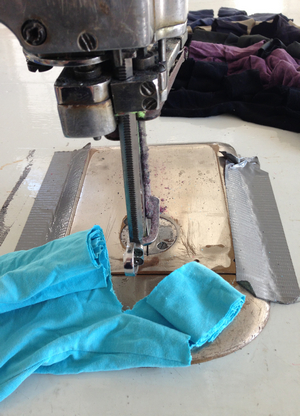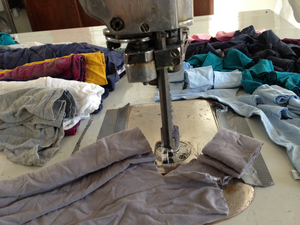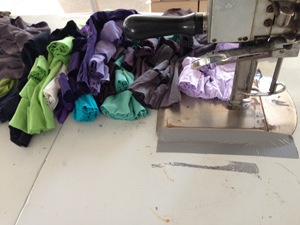 6. fill a bag with pre-cut T-shirts ready for manual cutting and stretching and rolling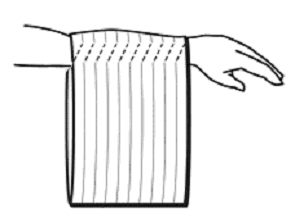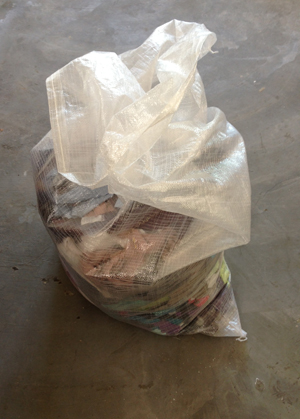 Metrics: two bags of T-shirts took me 2 hrs to cut, and left me with a bag 2/3 full and another bag full of leftovers.