Good, bad and ugly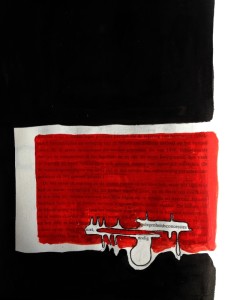 Been doodling again – a lot – it sort of grows on me. This time the good, the bad and the ugly get displayed here.
The connection with Dutch Space is tenuous at the moment, but I proceed in the assumption that while travelling this path it will become clearer.
Have scored five books to doodle in while travelling – all written by dutch (travel) writers about the countries I'll visit – they represent dutchness in a foreign land. I will layer their books with my own experiences – be a hunter/gatherer for images and superimpose those on the books. Now that I've overcome my inculcated dislike of scribbling in books, I find it liberating to not have to start with a blank page but hunt for treasure on an already written one.