Representation
The Scheepvaartmuseum –  we  visited last wednesday – has the loveliest courtyard, covered with a brilliant glass dome. With lights on at dusk it is even more magical … We spoke with Ernst van Keulen who is an educator, and Stefan Leatemia who  is commercial manager operations. Ernst bridges the gap between visitors and exhibitions, and gave us a rousing talk about this. Stefan organises events under the dome, and had quite a brilliant client list. The question of how museum and event venue operate side by side was much discussed.
Ernst told us a lot about how the Scheepvaartmuseum keeps track of its visitors. They even do personae – like we do when designing websites. They hired Motivaction to do some of their research, and Ernst mentioned the self-scan on the Motivaction website. Looked for it, found it, filled in the form, and presto: I am labelled a post-materialist – good for my ego, that one, to be named  part of this slender green wedge that represents 5% of the Dutch population.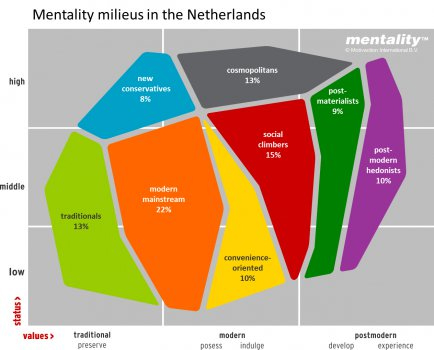 "An idealist who is critical of social structures, who wants to broaden his/her horizons, and who comes up against social injustice and for the environment. Solidarity and harmony are characteristics of the people in this milieu. They are critical of the current society. Aiming for a mutual solidarity, taking responsibilities and working on social improvements play a prominent part. Post-materialists attach a lot of importance to being able to live according to their own principles and have a strong social conscience. Living responsibly is important: no waste, profit seeking or damage to the environment. They prefer a job at institutions or organisations that contribute to social wellbeing. People in this milieu show interest in art and culture (film, museums, theatre, cabaret, classical music) as well as in more homey forms of recreation. Family life is usually solid (strong mutual involvement), but doesn't follow traditional patterns."
They even pictured my living room, and apart from the fact that I have no houseplants, it is  spot-on. Interesting stuff, this profiling!