Fun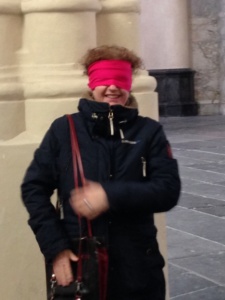 Promised myself a visit to the Oude Kerk in Amsterdam,  for my friends from dKvhT visited last wednesday  when I could not go. So I went – and it was very much worth my while.
First of all because of the work of Marinus Boezem. Who was not on my radar until today, but I did know the green cathedral he did in Almere – a cathedral made of trees. Anyway, Boezem is fascinated by gothic churches, buildings that lifts the individual up. In the Oude Kerk he literally lifted me – nice! For he installed an open-air elevator, a rickety thing to look at. I took my courage in both hands and went up-up-up, see the pics below for a view of my adventure.
Secondly  they have a tour on called 'Come Closer' – exploring the church with  fingertips, feet, ears, and finally: eyes. So good it should be mandatory. And it should not be billed as 'for kids – with parents' – why is it that if it's fun to do, it is for kids?
So what unusual and fun things did we do:
walked hand in hand through the church blindfolded. Note: takes a bit of courage to do this with total strangers.
found our way along pillars and choir blindfolded
a pencil-on-paper rubbing thing to meet with the gravestones
hug a pillar (like a tree)
draw the circumference of the pillar with sticks of wood
find shapes cut out in plywood
create  the contour of the Reims Cathedral in purple tape
To paraphrase Miranda's mother: Such Fun!