Peer reviews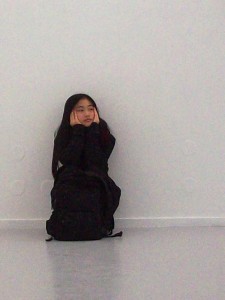 We were tutored by Jeremiah Day this week. He taught us how to do peer reviews of our work. Which was great – if exhausting – to do and will help us get more out of being a group of artists.  He has a quirky sense of humor which made our sessions very lively – hope we can persuade Henk to have him come back and do a session like this again.
Jeremiah took us to the show he curated at SMBA, which was interesting, then proceeded to demonstrate to us some of the inner workings of the Amsterdam art world. Very illuminating! We visited a couple of galleries that I want to link to here so I can start following  what they do.
Went to Ellen de Bruijne Projects first, Jeremiah shows with her. At the moment she's  doing a solo show of Susan Philips – The Two Sisters. Very impressive work, a sound work consisting of a two channel sound installation with voice (song of the two sisters, two recordings played simultaneously, giving the thing a sort of echo) and a part with surround sound with violins in two rooms. When there is very little to see, every minute detail of speakers, boxes and pedestals count. Learned a lot!
Picture I posted is Yan, fellow student, listening to this piece. For a moment there she looked very much like her own drawings.
I will just list the rest of the  galleries, not that there was no good stuff to blog about but I'm having a lot on my plate these days preparing for  two review meetings of my work at HKU.
So:
Galerie Fons Welters
Galerie Diana Stigter
Annet Gelink Galerie
Martin van Zomeren
Galerie de Expeditie
Grimm fine art