Dwarfed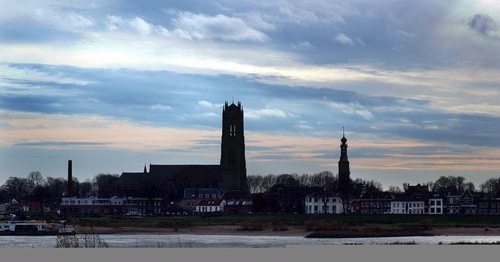 Guess what? Another item on my bucket list can be crossed of. For I  had a Studio Visit!  The Heilige Huisjes exposition is to be shown in Zaltbommel in july/aug of this year, in the church-cum-tower that dominates the Zaltbommel skyline (such as it is). The committee that governs the art exhibitions in the church has graced me with a visit, wanting to check on what all will be shown and what our requirements will be qua space and wifi and wall sockets and such. Very successful get-together: it turns out to be very interesting to make a travelling exhibition.
Because the comittee wants to talk money I've been investigating the options for insuring the whole thing. Not easy, as we don't fit in any pre-defined category. A lot of e-mailing to and fro with Aon Risk Solutions netted me the promise of a quote. Another insurance specialist is to call me beginning of next week. It must be said that my project management skills and my artistic skills do complement each other nicely! 
NB: church is vast. Will our exhibition be dwarfed?