Sea smell by snail mail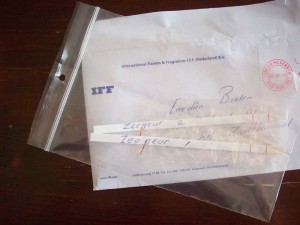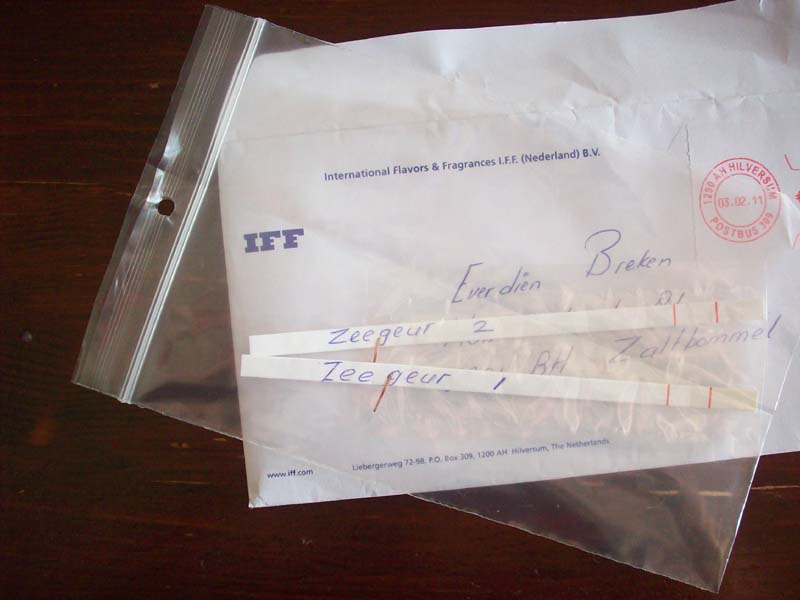 It so happened that I was teaching a project management class a while ago and two of my students turned out to be from IFF – International Flavours and Fragrances. I asked them all manner of questions about designing and producing smells. Tey were kind enough to answer some, then redirect my curiosity towards their PR lady.  She in turn put me in touch with mr Jan Overgaauw. who is Technical Perfumer (wonderful job title) at the IFF  facility in Hilversum. I asked him about the specific smell I'm looking for  – the smell of the sea – and they turned out to have it – two varieties, even!
So a few days ago the smells of the sea arrived at my house by snail mail: two test strips for me to smell & find which one comes closest to what I have in mind. "Zeegeur no 2′ was a bit to flowery, but "Zeegeur no 1′ could be spot-on. Which is amazing! I've just had a mail from Jan promising me a test spray can – and warning me to use it sparingly as it's pretty strong stuff.
To complete my setup for the next step in Experiment no 007 I will also need sea sound – so I"m off to the seaside very shortly to catch some sound. Can also validate the smell there. Then I need to know where exactly the coastline of the Netherlands would be if us Dutch didn't keep interfering with nature – this will be a deciding factor in determining a place. Then I will go and create a sea-experience in a spot where there is no sea – but could have been. So: to be continued.