Top-10 wordpress plugins for art blog lovers
Posted by Everdien on 11/17/11 • Categorized as Weblog writing
In working this blog I rely on a number of nifty WordPress plugins. I promised myself that one day I'd list the ones that I find useful. Today is the day!
Before starting on the plugins, I need to explain about my blog a little. It is styled Everdien's external memory, and it works much like my real brain does. There is lots of stuff here, heaped, stacked, piled  and thrown into corners . The trick is to retrieve, access and replay ideas, memories and random thoughts whenever I feel like doing so. What is also important to me  is to let he unexpected happen: I try to surprise myself every once and a while. I do allow other people acces – and get nice comments  – but I'm not an attention grabber, nor do I optimize my blog for traffic or search. It is basically me writing down stuff for me so I don't drown in a sea of ideas and memories.
This goes to explain why there are no tips here to optimize a blog for traffic or for community building: I try to optimize it for variety of access, like a labyrinth that can be walked through in a great many ways. The Mimbo theme that I use came  loaded with options for this,  like a search function in the upper right hand corner; a horizontal navigation bar for pages and another one for categories; and a three-column layout. Which is why I am so devoted to it.  Still, I add bits and pieces when the need to access my stuff in some other way grabs me. Here goes my top-10 collection:
INDEX

The Index page lists all my blogposts by title in alphabetical order.  I'm using AZIndex – I downloaded it from it's developers site then uploaded and installed. Not all that difficult, but one gets pampered by the regular  Wordpress functionality where plugins are installed through the dashboard without any need for ftp transfers. Anyway, AZIndex works for me – my only brief with it is that I will have to wade through a lot of code to make thumbnail pictures appear in the index. I'm saving that exercise for another day, when I am feeling particularly bright and chirpy.
ABOUT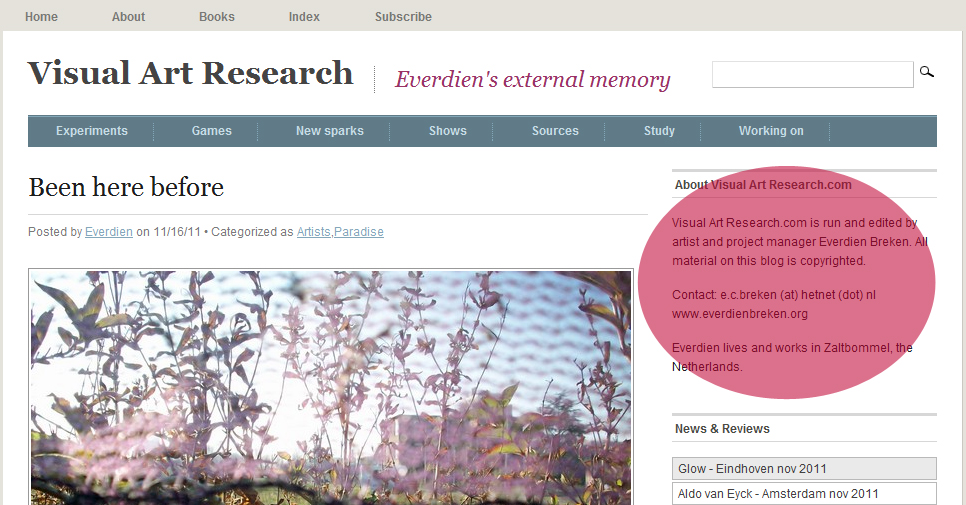 To add an About message at the top of my right-hand sidebar I simply used a text widget from the WordPress widget menu. I had to diddle Mimbo a little to make the same text appear at the sidebar for individual blogs as well. I wanted this badly and I had to mess with the Mimbo source code to get this to happen. Diddling source code is is something I do my level best to avoid as it is courting disaster – I get withdrawal symptoms when my memory crashes.  Changed the header format then, too, which was a little less breathtaking: I just changed the numbers in the style.css file to suit my needs. Note: never make changes in the source code without backing up the original files at a secure place.
TOP_10 SECTION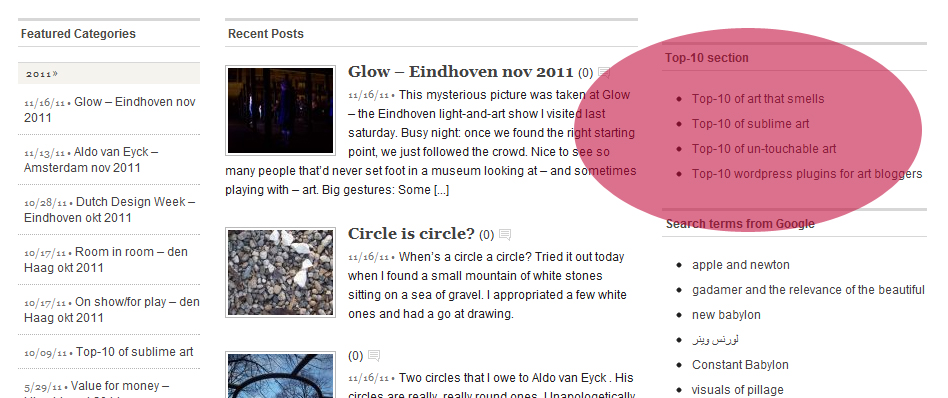 I love lists, especially top-10's. At present I have four of them that I frequently add to, so I want them close at hand. Took me a while to work out a solution that was not category-based as I don't want them to show up as a category in the navigation bar. The present top-10 section is really my blogroll in disguise: I link back to my own website and  I use Advanced Blogroll to give myself more optionsfor styling and ordering . Can't get the thumbnails to happen yet, don't needy-need them so that's ok.
TAG CLOUD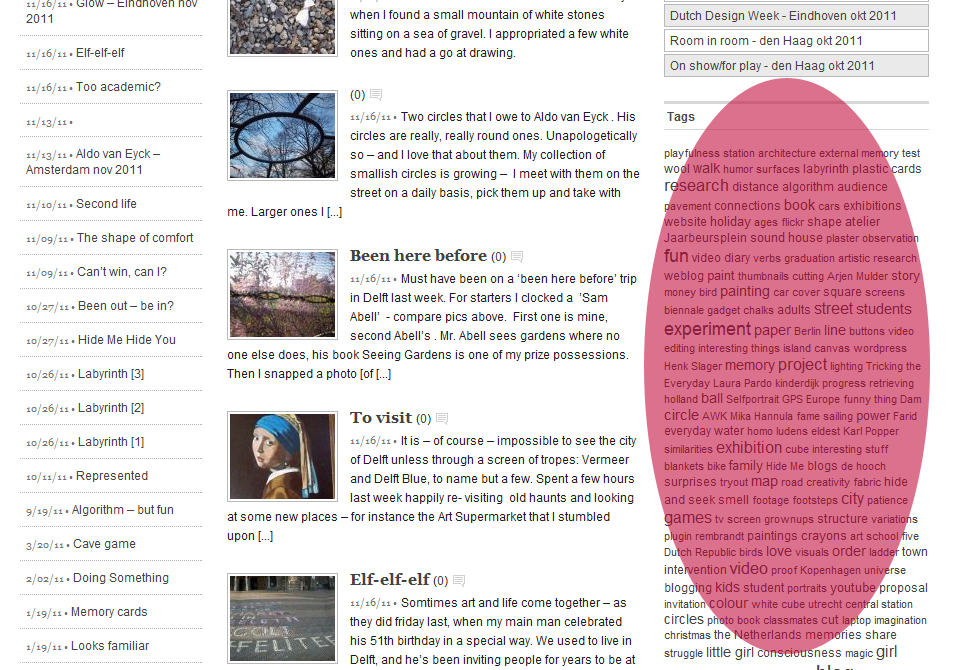 Working with tags was a find! I wanted a random access option,  Configurable Tag Cloud (CTC) provided me with one. It is responsible for presenting my tags as a random cloud, highlighting those  ideas and concepts that show up in my posts most often. It does so all by itself, surprising me on a regular basis. I don't mess with CTC's algorithm,  I love it too much. To tag my posts was a major undertaking, helped by Strictly Autotags. I do  YQL Auto Tagger for tag suggestions.
SEARCH TERMS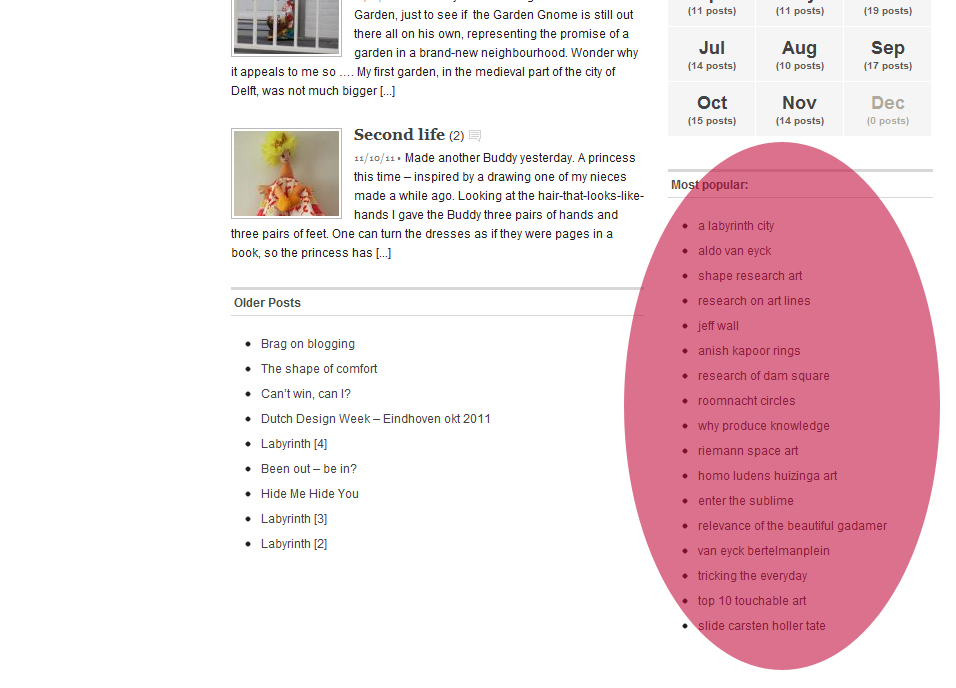 Recent addition to my sidebar is a Search terms from Google category, highlighting the most popular search terms for my blog. It is  SEO SearchTerms Tagging 2 that does this trick. I like seeing why other people ended up on my blog, following their lead makes me re-read stuff from undusted corners.
A YEAR BEFORE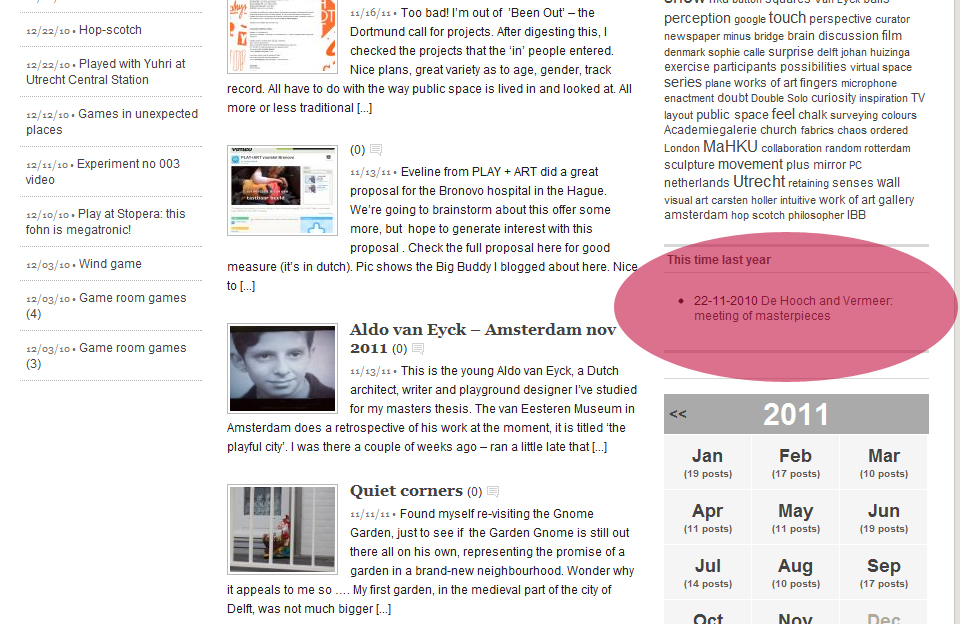 Then there is the A Year Before widget, showing  links to articles I wrote a year ago. Now that I have this little gem I re-read stuff  a lot – it helps me see the quality of my ideas and sparks of new thoughts about old plans. Nice!
CALENDAR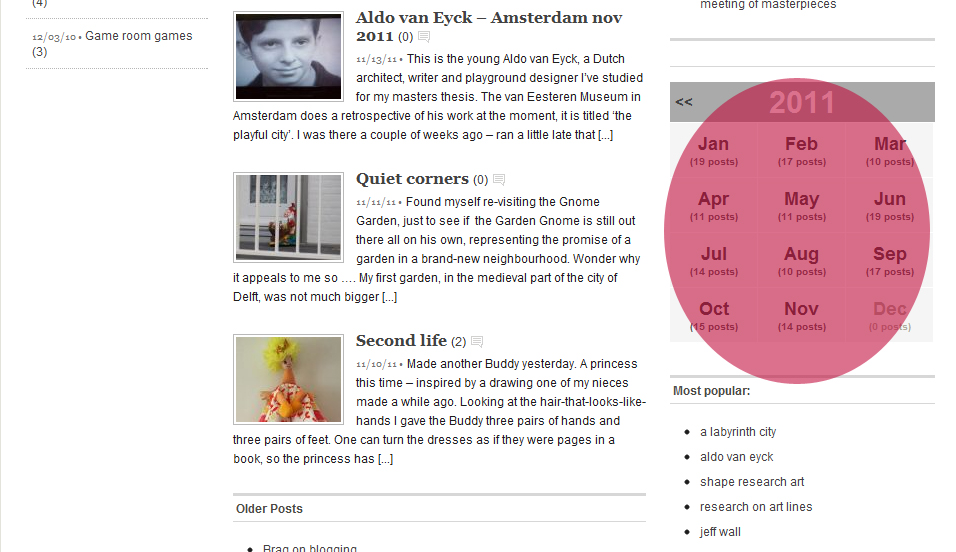 Took me a while to find the Month Calendar: it combines simplicity with a nice look-and-feel. I need it in order to be able to browse throug my memory month by month, which is needed when I remember to have written about something somewhere around the fall of year XXXX. The calendar has an additional effect: If I don't blog, the number of posts for the present month will reproach me.
YOU MIGHT ALSO LIKE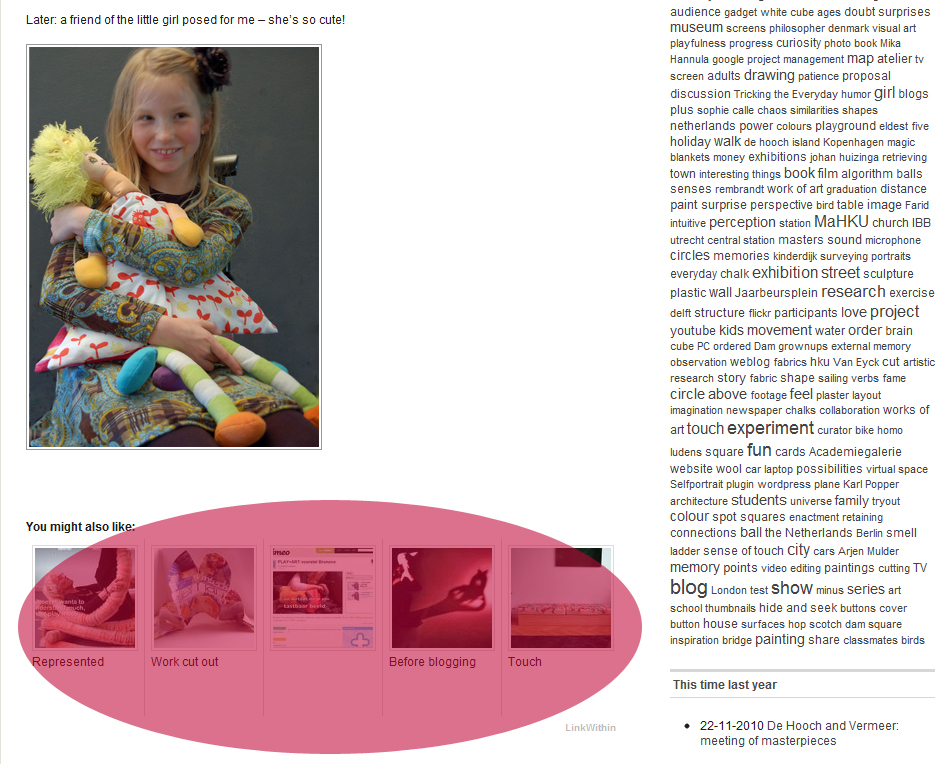 Many thanks go to the Linkwithin people, took me a long time to find them but it was worth every hour. Their ýou might also like suggestions often surprise me, forging new connections and creating random paths through my memory. I adore that thing! Am thinking about making a work of art from this feature – a labyrinth-like program that mines Flickr for images and goes totally random.
SHARE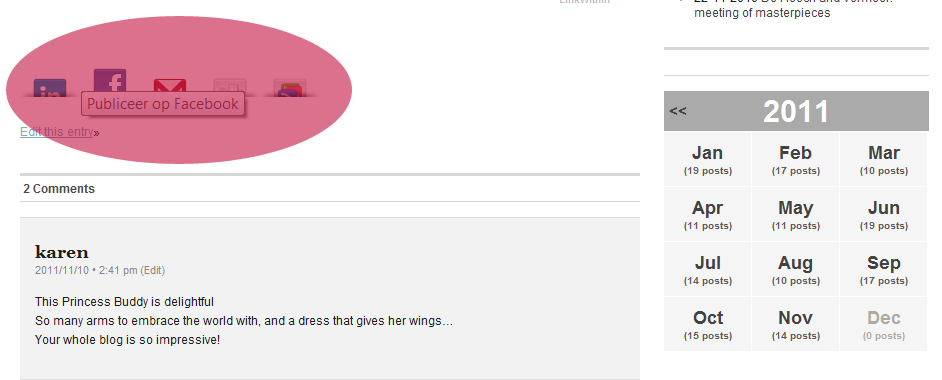 I share through Sharaholic – the only social bookmarking plugin I could find that was not totally ugly or overbearing. I use the facebook share button a lot to share blogs Iwith my facebook friends – a lot of people from art school are gone back to their country of origin, and it is nice to keep in touch. Linkedin I use for my other professional persona, also nice to be able to cross-load from the one to the other.
FLICKR [1]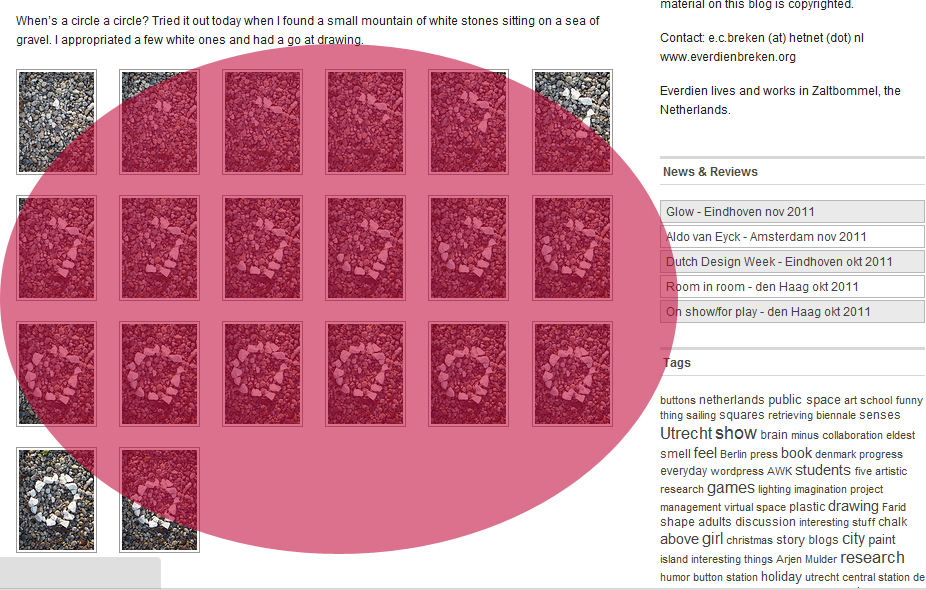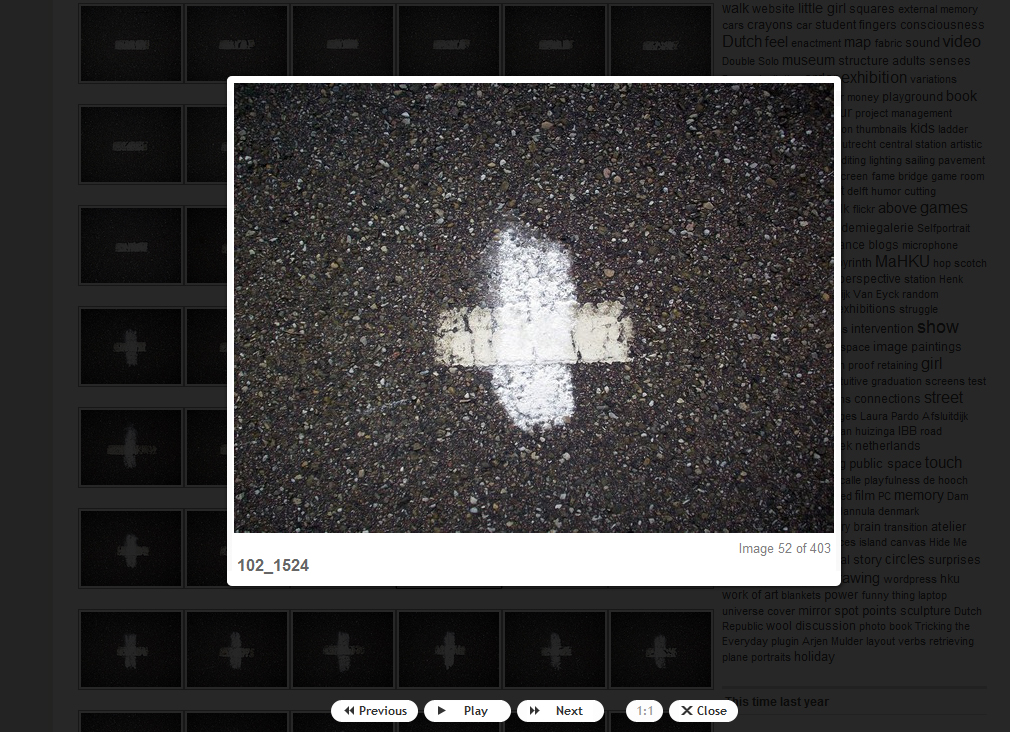 Pretty soon after starting my blog,  I grew tired of uploading and posting  pictures on it. I struggled with the limited WordPress functionality for making pictures sit next to each other, align, etc. It reminded me of my earlier struggles with HTML, which is pretty much text-oriented also. Desktop publishing not beeing supplied by WordPress,  I went looking for alternatives. And came up with an answer: upload pics to Flickr and use a plugin to connect to my posts. I was very happy to find Awesome Flickr Gallery Plugin, which  is just that: Awesome! I now upload my photo's to Flickr, give them a tag, enter a code on my WordPress page, and all the lovely options are there. Including a lightbox that I really like. AFG can be configured per page, so my settings are totally customisable. Very, very neat.
FLICKR [2]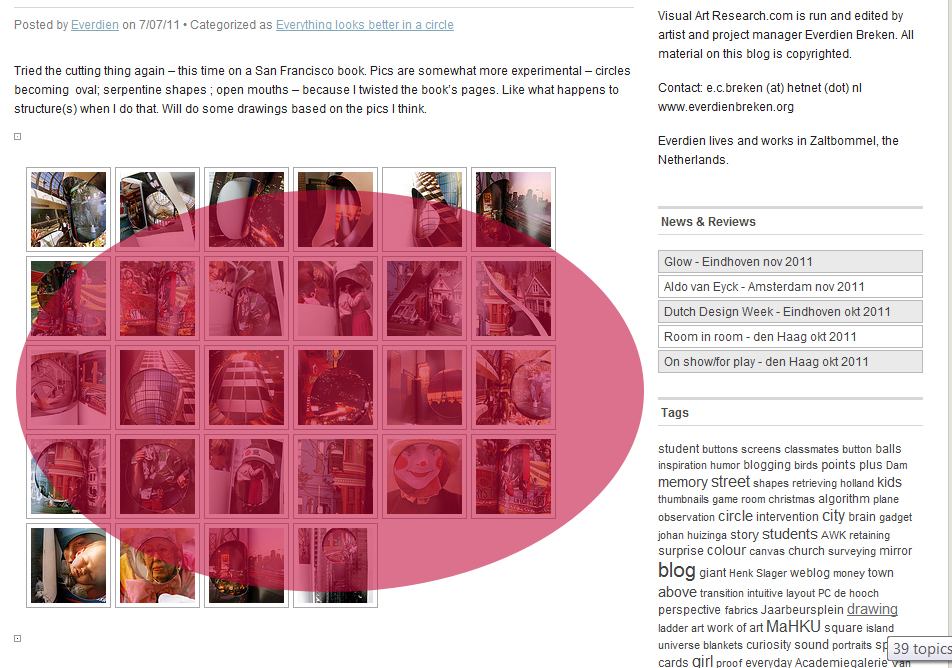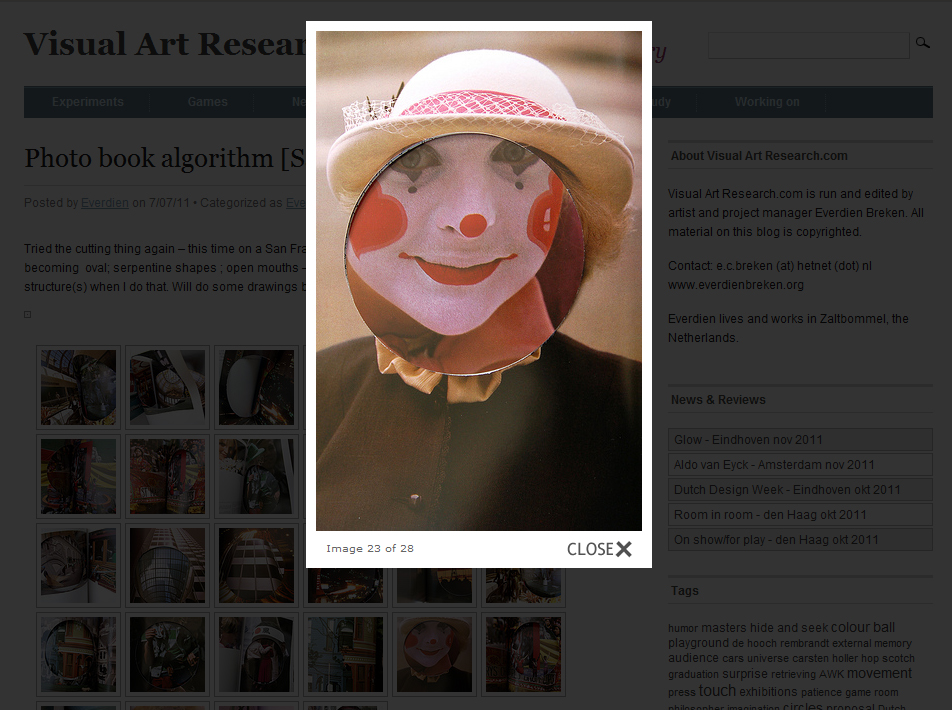 Before finding AFG, I used Slickr Flickr, which is not half bad. It is a teeny bit slower than FGP, and less configurable: one setting plays for every page. I keep it around so as not to disable the posts I've used it for, as converting stuff is really a bore. There should be a plugin that combs one's blog for where certain plugins are used – have not checked this but there probably is something or other to manage just that.
Later: just could not stop looking for more nifty plugins, found some amazing new stuff. Check here
Related posts:
Tagged as: art, Attention Grabber, audio, Awesome Flickr Gallery, blog, category, Collection Index, Configurable Tag Cloud, connections, CTC, external memory, Google Analytics, Horizontal Navigation Bar, memory, Month Calendar, Page Nbsp, plugin, random, SEO, share, Slickr Flickr, video, wordpress, Wordpress Plugins, WP, youtube
Comments are closed.